NoLogo festival 2023
11 août-18 h 00 min

-

13 août-23 h 30 min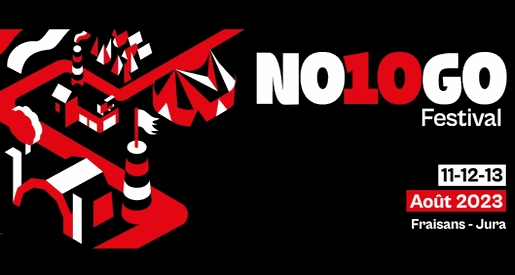 NO LOGO FESTIVAL
Du 11 au 13 août 2023
Festival reggae dub
Pass jour : 39€
Pass 3 jours : 84€/95€ avec camping
Ouverture du site à 15h30 tous les jours
Site des Forges
Fraisans (39)
A 1h15 de Chalon
Ca y est on a tout ! Grosse grosse prog à Fraisans, grande fête reggae et dub en perspective. Les pass 3 jours à tarifs amicaux on disparu. Vu la prog, le dernier tarif encore ouvert reste raisonnable.
PROGRAMMATION
– VENDREDI 11 Août
Lila Ike / Tiken Jah Fakoly / Protoje / Les Frères Smith / Horace Andy & Dub Asante Band ft. Matic Horns / Patrice / Zentone (Zenzile & High Tone) / Iration Steppas / Ashkabad / Ishiban / Women Soldier / Dub Shepherds / Art-X / Grayssoker / Rawb / Volodia / Manudigital ft. Caporal Negus
– SAMEDI 12 Août
Chezidek & The Ligerians / Mike Love / Blaiz Fayah / Naâman / Danakil meets Ondubground / Inna De Yard / Hilight Tribe / Rakoon / Roots Raid / Bhale Bacce Crew / Alpha Steppa x Awa Fall / Mungo's Hi Fi / Hermit Dub & Ramiya / Fatbabs & The Riddim Ryders ft. Vanzo, Volodia, Cheeko, Davojah / Jupiter Diop / The Harbingerz

– DIMANCHE 13 Août
Ryon / Cypress Hill / Biga*Ranx / Johnny Osbourne / Steel Pulse / Massilia Sound System / Mad Professor / Black Hole / Bandikoot In Dub / Demkaz / Dub Engine meets Double Spliff / Tetra Hydro K x Jael x Bakû / Boom Tchak Tour / Nez à foot / Mystical Faya / Tomawok
Ici, sous le grand chapiteau des Spectacles, nous accueillons la programmation du spectacle vivant, des arts de la rue et des scènes de Chalon sur Saône et Mâcon. Pour voir jouer une pièce au Théâtre de Mâcon, écouter un concert rock au Réservoir de Saint Marcel, un concert de rap à la Cave à Musique, un concert de blues au Crescent de Mâcon, voir un ballet ou écouter un opéra sur la grande Scène de l'Espace des Arts de Chalon, assister à un concert électro à la Péniche, à un concert jazz à l'Arrosoir, à un concert classique programmé à l'Auditorium de Chalon, par ici le programme.
Retrouvez les dates de concerts, des pièces de théâtre, des ballets, des opéras et des programmations de festivals et de spectacles dans les villes de Chalon sur Saône et Mâcon en Saône et Loire. Quelques soient vos goûts, votre style de musique : rock, jazz, électro, classique, pop, rap, blues, soul, punk, folk, métal, le style de danse que vous affectionnez : classique, moderne, danse de ballet, hip-hop, contemporaine, folkloriques, le genre de théâtre que vous appréciez : tragédie, comédie, drame, théâtre de Boulevard, Vaudeville, les performances solitaires qui vous plaisent : one man show, one woman show, artistes de variété, les performances circassiennes qui vous émeuvent : clowns, jongleurs, équilibristes et autres acrobates, les magiciens, ou encore les arts de la rue qui vous touchent, ou les festivals qui vous font vibrer : Chalon dans la Rue, les Musicaves, Jazz à Couches, Le Chien à Plumes, etc… vous trouverez ici votre bonheur en découvrant la programmation des événements artistiques et spectacles de Saône et Loire en Bourgogne.
#SpectaclesChalon #SpectaclesMacon