THE COOL GREENHOUSE – LaPéniche
2 février-19 h 00 min

-

23 h 00 min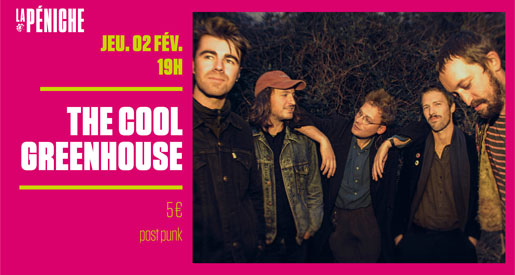 The Cool Greenhouse
Le 2 février 2023 à 19h
Concert musique post-punk
Tarif 5€
LaPéniche
Chalon sur Saône
The Cool Greenhouse
< UK – Post Punk >
Les londoniens de The Cool Greenhouse continuent d'éprouver leur savant cocktail de riffs motorisés et de commentaires sociaux mordants sur leur nouvel album au son post-punk plus abouti que jamais.
Ici, sous le grand chapiteau des Spectacles, nous accueillons la programmation du spectacle vivant, des arts de la rue et des scènes de Chalon sur Saône et Mâcon. Pour voir jouer une pièce au Théâtre de Mâcon, écouter un concert rock au Réservoir de Saint Marcel, un concert de rap à la Cave à Musique, un concert de blues au Crescent de Mâcon, voir un ballet ou écouter un opéra sur la grande Scène de l'Espace des Arts de Chalon, assister à un concert électro à la Péniche, à un concert jazz à l'Arrosoir, à un concert classique programmé à l'Auditorium de Chalon, par ici le programme.
Retrouvez les dates de concerts, des pièces de théâtre, des ballets, des opéras et des programmations de festivals et de spectacles dans les villes de Chalon sur Saône et Mâcon en Saône et Loire. Quelques soient vos goûts, votre style de musique : rock, jazz, électro, classique, pop, rap, blues, soul, punk, folk, métal, le style de danse que vous affectionnez : classique, moderne, danse de ballet, hip-hop, contemporaine, folkloriques, le genre de théâtre que vous appréciez : tragédie, comédie, drame, théâtre de Boulevard, Vaudeville, les performances solitaires qui vous plaisent : one man show, one woman show, artistes de variété, les performances circassiennes qui vous émeuvent : clowns, jongleurs, équilibristes et autres acrobates, les magiciens, ou encore les arts de la rue qui vous touchent, ou les festivals qui vous font vibrer : Chalon dans la Rue, les Musicaves, Jazz à Couches, Le Chien à Plumes, etc… vous trouverez ici votre bonheur en découvrant la programmation des événements artistiques et spectacles de Saône et Loire en Bourgogne.
#SpectaclesChalon #SpectaclesMacon